Winter is the best time to travel to India for many reasons, for its pleasant temperatures, festive atmosphere, and perfect beaches are some of the prime reasons. Here are some of the best destinations in India for winters.
India is known as a country of vast extremes: from luxurious five-star hotels and splendid palaces to slums and poverty-stricken villages. These variations in geography make it one of the most diverse countries in Asia, with something for everyone to enjoy. Plus its geographic location makes it a subcontinent. It has deserts of Thar to the snowy hills of Kashmir, from rain forest Assam to relaxing beaches of Goa all under one country.
Many travelers come to India during winter when it's cooler than other countries but not so cold that you can't go outside. For the winter holidays, India must be one of the best destinations in the world.
Here are the 5 Must-Visit Travel Destinations in India for winters:
Mumbai
Mumbai is undoubtedly one of the most cosmopolitan cities in India and it has a rich cultural heritage. Whatever your interests, you'll find something to satisfy your interest here.
You can enjoy a night at a top nightclub as well as attend an opera or ballet performance. You can also take in some of Mumbai's important historic sites like Mahalaxmi Temple and the Gateway of India.
Masterpieces such as art galleries, luxury hotels, and palatial homes are also present in Mumbai that will enhance your visit to this city during winters.
Mumbai is the birthplace of Bollywood and many movie stars. This mayanagri, also attracts travelers who love Film city India.
If you love beaches then you don't need to go anywhere else. Mumbai has 7 amazing beaches: Juhu Beach, Chowpatty Beach, Aksa Beach, Madh Island Beach, Versova Beach., Marvé Beach, and Manori Beach.
Kolkata
If you want to travel to the classy side of India, then Kolkata is one of the oldest cities in India and the capital of West Bengalis. It's one of the most picturesque countrysides in India.
This city is a typical example of urbanization in India that has mixed the old world charm with modern-day facilities.
Kolkata is also famous for its traditional delicacies. You should not miss visiting Kali Temple and Victoria Memorial while here. They are some of the marvels of architecture that were constructed by two great Britishers, namely William Carey and Queen Victoria.
One of the most famous landmarks and tourist attractions of Kolkata is Howrah Bridge. It's also considered India's landmark.
Another important tourist attraction is The Indian Museum which is the longest and oldest museum in India, built in 1814. Victoria memorial was built in 1921 and dedicated to queen victoria. It is the second oldest Museum in India.
The main attraction for wildlife lovers in Kolkata is Jaldapara Wildlife Sanctuary and Birla Temple. Jaldapara Wildlife Sanctuary is 216.51 square kilometers, it is the home of the Royal Bengal Tiger, Wild Boar, Indian Elephants, Sambar, etc.
Udaipur
Udaipur is known as the City Of Lakes, if you are a nature lover and want to travel more in a minimum amount then Udaipur will be the best choice for you.
The Venice of the East, also called Udaipur is one of the most beautiful cities of India, is famous for countless reasons but tourism is at the top of it.
The main jewel of Udaipur is Udaipur Lake Palace, located on the 4 km long man-made lake Lake Pichola. Taj Groupe operates this location and it is considered one of the most romantic places in India. You can spend the whole day boating from Rameshwar Ghat to The City Palace and not get bored.
If you want the Glimpse of True Royalness of Rajasthan then you must visit The City Palace. On the banks of gorgeous Lake Pichola, this place is a must-visit. This will surprise travelers with his detailed classes interior, unique and antique painting and furniture, marble works, and mirror work. The City Palace is divided into different and unique villas and palaces, Bhim Vilas, Mahk Mahal, Moti Mahal, Krishna Vilas, and Amar Vilas.
Another Glimpse of beautiful Royalness is the Vintage Car Museum. This Museum is completely dedicated to Luxury vintage cars of their times. Vintage Car Museum is the house of many magnificent cars including Cadillacs, Mercedes Benzs, and many others including the star of cars 1934 Rolls Royce.
For the most amazing view of Udaipur, you must visit another marvel of Udaipur Sajjangarh Palace. This Hilltop palace is also known by the name The Monsoon Palace. Surrounded by Wildlife Sanctuary, this castle was the pride of kings at that time because of the amazing beauty and the view of Fatah Sagar from it.
Jaisalmer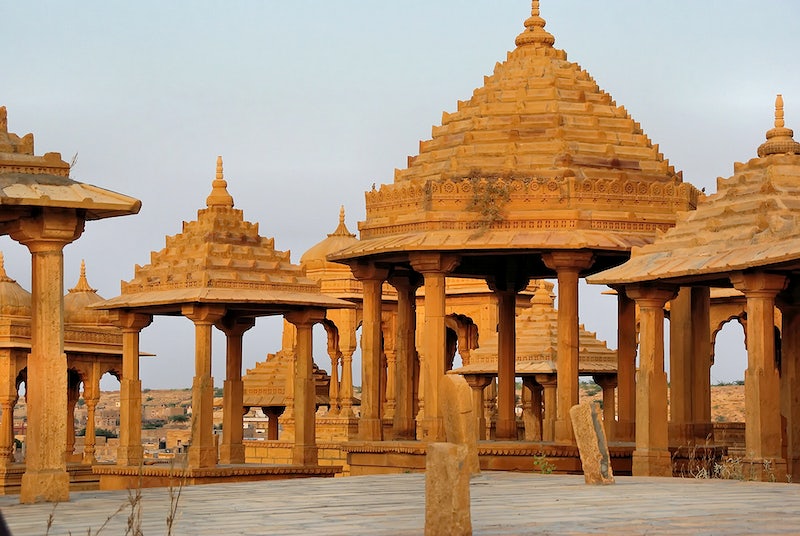 If you want to enjoy your winters in Rajasthan then Jaisalmer is your first destination. Jaisalmer has the maximum part of the desert in it. Beyond the glittering cities of Rajasthan, we have Jaisalmer city which is rich in culture, art, and desert. Jaisalmer is also called as golden city of Rajasthan as it occupies a maximum deserted area of the Thar desert.
For the fort lovers, Jaisalmer gives you the peace of art of the 12th-century building Jaisalmer Fort. This massive fort is built using Yellow Sandstone which makes it the heart of Rajasthan. This fort has several Raj Mahals, Gateways, Havelis, and Temples. Which makes it a favorite tourist destination. Its yellow sandstone gloves are honey-gold at sunset, the main reason it got the name "Sonar Quila".
Embrace the magical golden sands of Jaisalmer. If you love sand dunes, camel safari, and beautiful sunsets of the Thar desert then you will love Jaisalmer. From the Fort of Jaisalmer approximately 42km on the outskirts, you will found find the most recommended place in Jaisalmer. There is an endless desert filled with sweeping dunes, and on a camel safari, you will have the experience of a lifetime. Do not miss the magical folk dance of gypsies of the rural culture of Rajasthan. The best time to visit here is Jaisalmer Desert Festival.
Explore the wildness, flora, and fauna of the great Thar desert in The Desert National Park. if you are a wildlife lover then Jaisalmer national park will be your dream destination. The National park is home to many endangered animal species. This park is home of block bucks, chinkaras, and bustards. Its a home to different migrating birds like Saker falcons, Eurasian Griffon vultures, and great Eastern Imperial Eagles. Also, try jeep safari and jungle camping for the thrill of the National Park wildlife.
Jaisalmer's tour is incomplete if you have not explored the cultural and architectural miracles of Jaisalmer. Salim Singh Ki Haveli, Patwa Ki Haveli, and Jain Temple are some of the best checklist visiting sites for architecture lovers. Gadi Sagar Lake is the 14th-century miracle of classic Rajasthan architecture and is also a bird watchers attraction in the winter season for migration birds.
Explore the Must-visit Place in Delhi for a Fun Day-Out
Goa
If you love water sports, kayaking, diving, paragliding, kite surfing, kneeboarding, and snorkeling then Goa is your dream destination. Its beaches are home to many aquatic life forms and full night parties.
Due to its Pristine beaches, Goa is the most famous traveling destination formant people. The most famous beaches of Goa are Baga, Candolim, Arambol, Morjim, and Anjuna.
For Night clubs, resorts, and party lovers, Goa is a dream come true place. This place is famous for its nightlife. Goa is famous for its fantastic nightclubs and beach parties. The best clubs in goa are Silent Noice club, Soro-the village Pub, Tito's Bar and Club, Antares, and Soro.    
Not just for nights and beaches goa is also famous for churches. The most beautiful churches in the Indian sub-continent are in Goa. The real beauty of Famous Churches, and Old Goa makes a Goa cultural state. From an architectural point its churches are the main attraction. Some of the famous Churches are the Chapel of St. Catherine, St Francis, Born Jesus, Church of Lady Of Rosary, and Se Cathedral.
Hey you! Thank you for reading till here. If you are someone who is interested in learning about Digital Marketing, follow my other blog at Digital Mehak