The trendiest dish in Delhi right now is Sushi; it's sort of like the butter chicken of the current age. Sushi delivers a distinctive and tasty dining experience unlike anything else, whether you couple it with a glass of sake, a cocktail, a glass of wine, or any other beverage. The combination of the cold, hard fish with the rice, sauce, and other components is unique and mouthwatering.
Sushi is indeed healthy. It also has an awesome cluster of vitamins and minerals, high-quality protein, and omega-3 fatty acids derived from fish. White rice has fat, protein, and carbohydrates for energy but won't produce a considerable raise in blood sugar levels.
Top 10 Sushi Places in Delhi:
Here is a list of the top Sushi Restaurant in Delhi that you might want to check out, whether you love them or just want to try them.
1. Guppy
This place is a winner thanks to its lovely property and mouth watering cuisine. The Guppy Special Temaki Sushi is the greatest here, but there are many other options! One of the best spots in town for Japanese people and the general public is Guppy in Lodhi Colony. Guppy is a vibrant, joyful restaurant with an anime design where you can taste the best sushi in Delhi. Their dishes are also a culinary experience in and of themselves. You must sample meals like the Aburi Salmon Sushi Roll, Non-Vegetarian Sushi Platter, Chashu Ramen, Asparagus Tempura Sushi Roll, and more when you visit Guppy.
Cost: Rs. 745 and Up Hours: 12 Noon to 10 PM
Phone Number: +91 9650 185 005
Location: Guppy – 28, Main Market, Lodhi Colony.
Map: Guppy
Official Website: Click Here
2. Kofuku
Kofuku is a Japanese restaurant that can be found in the Ansal Plaza Mall in Khel Gaon. This location has the ideal ambiance for enjoying your sushi, with its tiny wooden cabins decorated with Japanese paintings and furnishings. Oh, My God, Sushi, Salmon Sushi & Sashimi Platter, Super Crunchy Roll, Sake, and other well-liked meals are just a few of the top choices you can sample here.
Price: Rs. 290 and Up Hours: 12 Noon to 11 PM
Phone Number: +91 8010 174 17
Location: August Kranti Marg, Khel Gaon Marg, Kofuku – Shop BG 09, Ansal Plaza Mall
Map: Kofuku
Official Website: Click Here
3. Megu Restaurant
This location is the most luxurious on the list and is for people who want quality dining. The sushi is worth your Instagram photos because it is fresh and nicely plated. Megu is the most attractive restaurant for a fancy sushi wine & dine date! The furnishings are distinctive and elegant, and the food (fish) is brought directly from Tokyo! That said, come over here and order the likes of Chirashi Rainbow, Nasu Misu, Sakana Pepper, and more for a spectacular sushi feast!
Cost: Starts at Rs. 550 and Up Hours: 12:30 PM to 2:30 PM, 7 PM to Midnight
Phone number: +91 11 3933 1234
Location: Diplomatic Enclave, Chanakyapuri, MEGU-The Leela Palace,
Map: Megu
Official Website: Click Here
4. Honk(Pullman New Delhi Aerocity)
Honk Aerocity is a modern Asian bistro-style specialty restaurant located in Pullman. Asian street food, mainly Chinese and Japanese with touches of Thai and Singaporean, has effects on the cuisine. Honk provides mouth wateringly delicious, authentic Pan Asian cuisine. There is a large selection of intriguing and tasty foods available. The setting is also very tranquil, making it perfect for spending time with loved ones. The best part is their seasoned staff, who serve you delectable meals while treating you like royalty.
You must try sushi rolls here, including the California roll, Vegetable Rainbow, Spicy Tuna, and Lobster Roll.
Cost: Rs 1450 onwards,Work Hours-Weekdays:6-11.30pm;Weekends-12.30-3.30pm,6-11.30pm
Phone number:Tel: +91 9871666600
Location: Asset nu 2, GMR Hospitality District, IGI Airport New Delhi Aerocity, Pullman Lower ground Floor, Yah Rd
Map: HONK
Official Website: Click Here
5. Sushiya
We're beginning to believe that Select City Walk is the open center for sushi in Delhi because it has so many fantastic restaurants where we can chow down on delicious sushi! Although Sushiya mostly has delivery locations throughout the city that satiate our needs for sushi at home, they also have this one-off stall at Select City. Whatever the case, their sushi is well-known worldwide, and you can try some of the flavors here, including the Prawn Dynamite Roll, Prawn Tempura Roll, Philadelphia Roll, Spicy Chicken Roll, and more.
Phone Number:+91 9312 444 086.
Location: Sushiya on the first floor of some Citywalk malls in Saket and other delivery locations. Cost: Rs. 259 and up. Hours: 11 AM to 11 PM
Map: Sushiya
Official website: Click Here
6. Pa Pa Ya
Customers can hold weddings, anniversaries, or birthday parties at this location. You'll appreciate the courteous staff's quick service if you go here. Prices are moderate from the point of view of the visitors. The gorgeous decor and unique ambiance will appeal to you, no doubt. Pa Pa Ya is the phone if our love for sushi is like a long-distance relationship. We are incredibly grateful since it is a vital link between us and our sushi. Try their Crispy Vegetable Maki With Dehydrated Spinach Sushi, Spicy Prawn Tempura Sushi Roll, Spicy Avocado Sushi Roll, Carbon Sushi Roll, and more delectable sushi rolls.
Cost: Rs. 395 and Up Hours: 11 AM to 9 PM
Telephone Number: +91 8800 002 882
Location: Pa Pa Ya's Select City Walk Saket, Worldmark Gurgaon, Mehrauli, and Other Outlets
Map: Pa Pa Ya
Official website: Click Here
7. Yum Yum Cha(Yum Yum Cha Khan Market)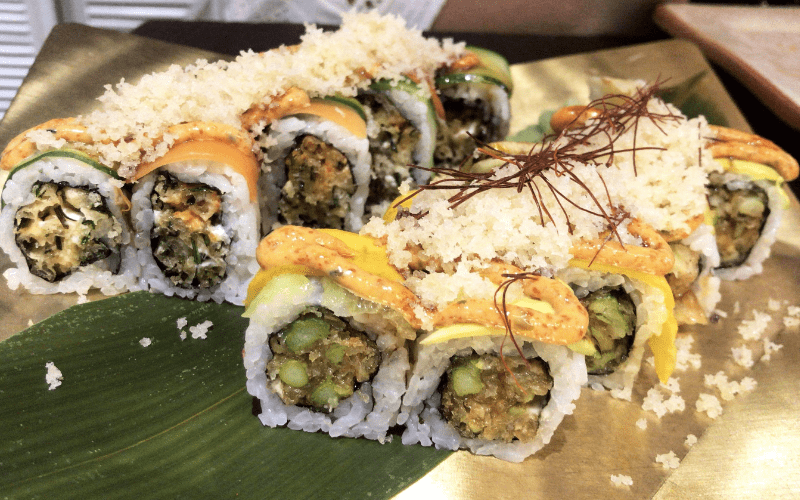 The origami-themed Yum Yum Cha has absolutely no introduction because it has become one of our favorite restaurants in the city for enjoying Asian food, particularly sushi! We cannot wait to gorge on their enormous sushi plates once more, in addition to the excellent ambiance they offer. Therefore, consider Yum Yum Cha to try and explore amazing Sushi variants!
Cost: Rs. 485 and Up Hours: 12 Noon to 11 PM
Telephone Number: +91 9810 002 996
Location: Yum Yum Cha at the DLF Promenade Mall in Vasant Kunj, Khan Market, Cyber Hub, and Other Outlets
Official website: Click Here
8. Kampai
The innovative, award-winning Japanese restaurant Kampai is challenging the stereotypes of a traditional fine dining establishment and is known for hosting one of Delhi's most extravagant parties. Every day of the week is a wonderful celebration at Kampai. Both the atmosphere and food at Kampai in Aerocity are exquisite. Kampai is a must-visit restaurant with exquisite food that looks as wonderful as it tastes. Some of the meals you should try here include Tori Katsu Curry, Sake Sashimi Sushi, Aburi Salmon Roll, and more.
Cost: Rs. 475 onwards, Up Hours: 12 Noon to 12 Midnight
Phone number:+919319274015
Location: Kampai-02, Ground Floor, Worldmark 1, Aerocity
Map: Kampai
Website link: Click Here
9. Harajuku Tokyo Cafe
The peak of the Japanese food trend is in Harajuku. The Japanese restaurant Harajuku, located in Select Citywalk, aims to start a Japanese culinary tsunami with its extensive menu. They have a vast selection of delicious sweets, including some that are adorable teddy bear shapes and jiggly pancakes, so we might or might not be prejudiced. The sushi they provide is also delectable, so stop by and try the Salmon Inside Out Roll, Spicy Salmon & Cream Cheese Roll, Yasai Tempura Roll, Dorayaki Nutella, Japanese Cotton Cheesecake Original, and many others.
Cost: Rs. 590 onwards and Up Hours: 10 AM to 11 PM
Phone Number: +91 9560 709 104
Location: Select City Walk Mall, Saket, Harajuku Tokyo Cafe, F-40, First Floor,
Map: Harajuku Tokyo Cafe
Website link: Click Here
10. Dashi Dimsum & Sushi Bar
Love Asian cuisine? Then you must visit Model Town's newest addition to the culinary scene. We're referring to Dashi Dimsum & Sushi Bar, which has us hooked with its outstanding menu of sushi, dim sum, bars, and much more. Although the city has a large number of Asian eateries and delivery services, relatively few offer the real deal—authentic flavors and a diverse selection of cuisine. Along with mouthwatering sushi, they also offer other delectable dishes like chili cheese dim sum, Sichuan hot vegetable wontons, and Korean fried chicken bao. Have you previously tried their delicious food? It's time to visit again and try them!!
Price: Rs. 295 onwards and Up; Hours: 12 Noon to 10:30 PM
Phone Number: +91 9911 049 595
Location: Rajinder Nagar, Model Town, Punjabi Bagh, and Other Outlets; Dashi Dimsum & Sushi Bar;
Map: Dashi
Official Website: Click Here
Also check out these Awesome Italian Restaurants in Delhi to Savor your Favorite Delicacies
So, this was our list of the best sushi places in Delhi NCR. Did we miss any? Mention them in the comments below.